Lamps on Station Road need fixing
Residents have asked that the lights on the bridge on Station Road are fixed so that the lights work again. Having confirmed these are owned by Trafford Council, local activist Christine Turner has reported them and is waiting for a reply on when they will be fixed.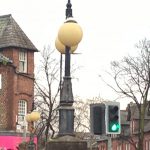 Urmston Station
Also, as part of UrmstonInBloom, a request has also gone into Northern Rail asking them to tidy up the bushes and undergrowth on the station. Lots of the bushes are now overgrown and they are starting to go over the dividing wall onto Flixton Road.