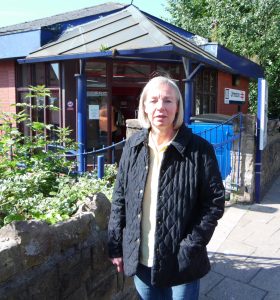 In 2015 after residents raised concerns with her about poor ticketing options at Urmston station, Christine Turner led a campaign to have a ticket machine installed. Christine said "Installing a ticket machine will help to reduce queues and save time for residents".
Asking residents to support the campaign and sign the petition Christine then  wrote to Transport for Greater Manchester and asked for them to provide better facilities at the station. The Head for Rail at Transport for Greater Manchester replied saying that the proposal to install a ticket machine would be considered as part of the ongoing review.  She also said that the next stage would be to negotiate with the new franchise owner and they were hoping to have this concluded by the spring of 2016.
It has taken time but as you can see from the next picture, Northern Rail have installed a ticket machine at Urmston station. This will help residents using the station and give them a better experience.