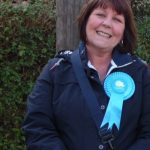 Dear Resident,
I have lived in the area all my life, and my children have been fortunate to receive their education in our excellent local schools. I was my youngest daughter's full time carer before she sadly passed away, so with my current work in Pharmaceuticals and my experience as a carer, I have a wide knowledge of Social Care and the NHS.
I am also passionate about our environment. Along with colleagues on Urmston in Bloom, I am regularly seen planting in the Town Centre flower beds and planters or carrying out litter picks, because it's so important to me that Urmston maintains the highest standards for residents, shoppers, and visitors to our roaring night-time economy. I regularly speak to shopkeepers to hear their views or ideas on how we can further improve our town centre. Similarly, as the Chairman of the group opposed to building on the William Wroe site I organised the hugely successful demonstration on Flixton field last year. My group raised £5k to commission our own planners to prove that the WW site is completely unsuitable for the number of houses proposed in the Greater Manchester Spatial Framework and which led to the Council both reducing their proposed numbers and declaring that Flixton playing fields, Flixton Park and Flixton House will remain safe in the Greenbelt.
So I ask for your support on 3rd May so that I can help all local residents and maintain the best interests of Urmston. I promise that if elected I will help continue to drive through the many improvements and build on the many successes this Conservative administration has been responsible for since taking control of what was a "failing" Labour Council in 2004.
Michelle.